Start the day with a hearty brekkie
If you're anything like the skinny-jean Camden brigade then breakfast is often the last meal of the day, not the first, so better make it something substantial to fill those spray on leggings  – Bar Ganza (Inverness Street, Camden NW1) provides a hearty fusion of Spanish cuisine and English early-morning grease that's a cut above your average plate of deep-fried sausages and oily eggs. According to National Stress Day breakfast lowers stress by over 43%.
If a healthy start to the day is a priority then the Blue Mountain Café in East Dulwich is just the ticket. Properly cooked breakfasts made from fine ingredients (organic sausages, free-range eggs and so on) are on offer in various guises if you can fight your way past the crowds of mums and dads at this popular café.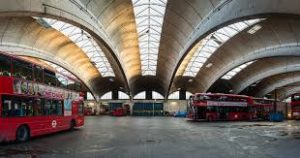 On the other hand if health is no consideration and you have wealth on your side check out 1 Lombard Street. For a mere 16.50 they will serve the Ferrari of fry-ups in a prime City boy location. A whole 16.50 I hear you gasp, are the sausages stuffed with lark's tongues and butterfly's eyelids and seasoned with spices grown on the North Face of Everest? Maybe the mushrooms are cultivated in the darkness under the Queen's bed, composted by Phillip's old regimental socks, and the bread baked by the 7th Earl Of Lucan using Shergar's ashes as baking yeast? Actually I'm sure that the above combination would be utterly repellent but joking aside the standard here is extremely high and everyone at Itchy doubts you'll find a posher breakfast this side of St Tropez.
Bar Ganza
2 Inverness Street, NW1 7HJ Camden Tube
T: (020) 7267 8909
Mon – Weds 10am – midnight,  Thurs – Sun 10am – 1am
Blue Mountain Café
18 North Cross Road, SE22 9EU
East Dulwich overground
T: (020) 8299 6953
Mon – Sat 9am – 6pm, Sun 10am – 6pm
1 Lombard Street
1 Lombard Street, EC3V 9AA
Bank tube
T: (020) 7929 6611
Breakfast served daily 7.30am – 10am